Plastic Discs
Telephone 01288 381690
Our lines are open Mondays to Thursdays 10am to 4pm - Fridays 10am to 2pm
Coloured Plastic Discs, Plastic Discs with Holes, Numbered and Lettered Plastic Discs
Engraved Plastic Discs and Printed Plastic Discs
Click here to view a selection of our Laser Cut and Printed Acrylic Products
Plastic Discs and Washers Price Checker
All colours available in 3mm thickness and some colours available in 5mm
Simply enter the details of the discs or washers you require here and click to order if the price is right!
Please enter the overall diameter of the Plastic Discs you require in Millimetres
Minimum 1mm - Maximum 800mm
All our plastic discs are made to the nearest millimetre
They are not suitable for applications where very tight tolerances are required
Enter Centre Hole Size for plastic washers (if required) in Millimetres
Leave blank if no centre hole is required
mm Centre Hole required
OR
Enter Hole Size at top of discs for hanging (if required) in Millimetres
Leave blank if no top hole is required
mm Top Hole required
Please select the colour and thickness of the Plastic Discs you require
All colours available in 3mm thickness and some colours available in 5mm
Click the picture for a better view of some of the colours available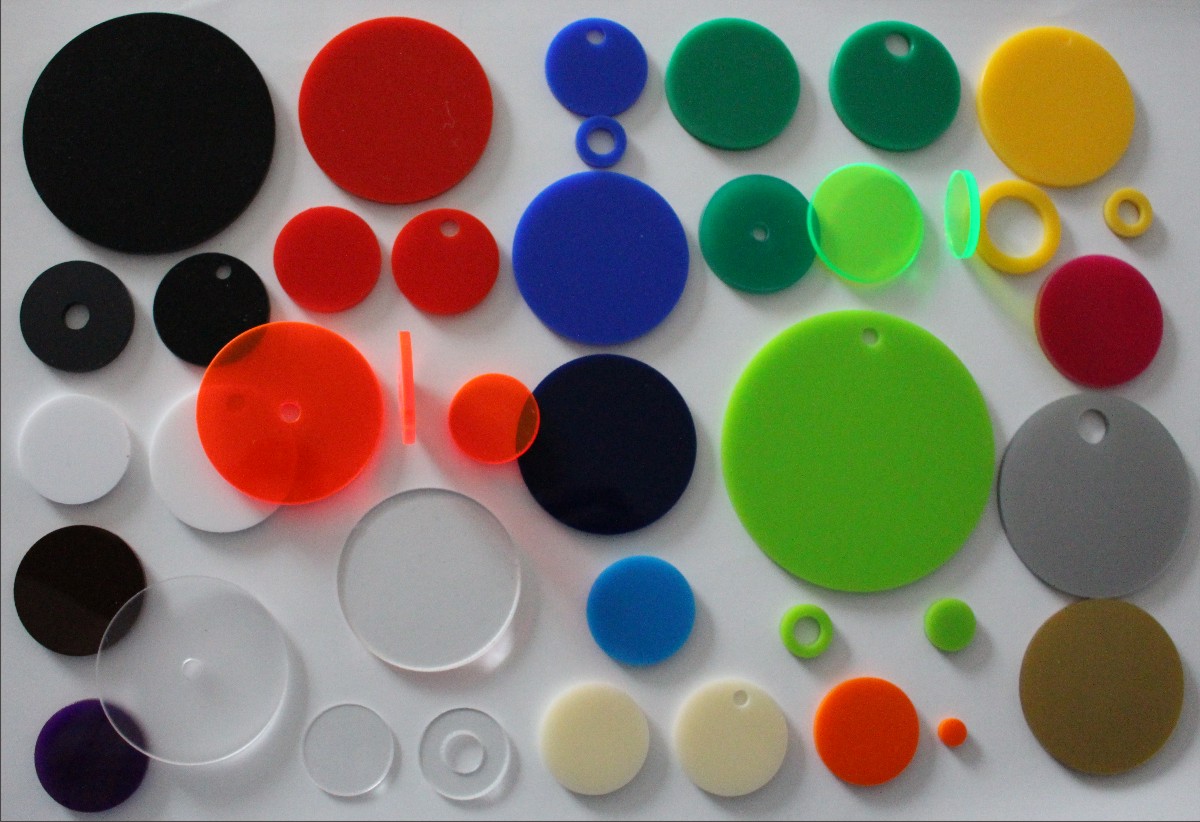 All our Plastic Discs are supplied with a protective coating on both sides which will need to be peeled off
This protects the discs during Laser Cutting and in the post and we recommend that this coating is left intact until you use the discs
However, for large quantities especially, we do appreciate that this can be a lot of work and we offer the option to have this protective coating removed for an additional charge of 5 pence per disc Please select this option below to include this in the calculated price
The Price is £ per disc plus VAT
The Price is £ per disc including VAT
The total price is £ INCLUDING UK VAT and UK mainland postage!
The price you see is the price you pay
All plastic discs are supplied with a protective coating on both sides which will need removing
Click here to see our Terms and Conditions
We also make plastic shapes, discs, squares, triangles, ovals, circles, shapes from drawings you send us, perspex letters, numbers, logos, numbered discs
custom made earrings, keyrings, tokens, coasters and table mats and almost anything else that can be made in 3mm acrylic in a huge range of colours and
sizes and we can cut numbers, patterns or letters through the shapes
Our Laser Cut Plastic Shapes and Letters have thousands of uses
Click here for Laser Cut Plastic Shapes
Click here for Laser Cut Plastic Letters and Numbers
We started in business in 1979 as clock material suppliers and we originally started making laser cut plastic shapes to give
our clock customers a greater choice of shapes and colours for clock hands, dials and pendulums. They have now been
supplied for use as school dinner tokens, badges, tile spacers, light switch backings, earring stands, shop displays,
casino chips, coasters, drain cover markers, fitting room discs, signs, house numbers, numbered plastic counters
jewellery stands, fire alarm backings, acrylic earrings, acrylic bracelets, acrylic necklaces, table numbers
covers for holes in kitchens and bathrooms and many many other strange things !
Please note
We can not undertake design work and we can not make complicated shapes
or shapes requiring high tolerances. For shapes other than the ones shown
above we need very sharp black on white artwork in a .pdf or .dxf file
It's easy to order from C & L Mail Order Ltd!
Our minimum order is only £10
You can checkout and pay securely online or you can order online and phone us
on 01288 381690 with your card details if you prefer







Visa, Mastercard, Maestro, JCB, American Express and Paypal are all welcomed
Please feel free to phone us with your order if you prefer to speak to someone
01288 381690 - Open Monday to Thursday 10am to 4pm - Friday 10am to 2pm
Our answerphone, fax machine and website are always available so you can order at any time
We only operate by mail order
We do not have a shop or any facilities for visitors so we are unable to make up orders while you wait or for collection
You can fax your order to us on 01288 381255
C & L Mail Order Ltd
Bridgerule
Holsworthy
Devon
EX22 7ED
Tel 01288 381690
Fax 01288 381255
email
We are always closed for Easter week, Christmas week
and August bank holiday week